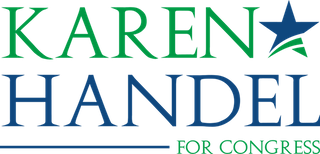 FOR IMMEDIATE RELEASE
April 2, 2019
$325,000
Former Representative Karen Handel announced today a Q1 fundraising total of $325,000 in her campaign to retake Georgia's 6th Congressional District.  
The fundraising numbers cap an announcement week that included an impressive line-up of endorsements, including House Minority Leader Kevin McCarthy, House Minority Whip Steve Scalise, House Republican Conference Chairman Liz Cheney, most of Georgia's Republican House delegation, former HHS Secretary and CD6 Representative Tom Price, former House Speaker Newt Gingrich, as well as nearly two dozen local elected leaders.
"I am excited and incredibly humbled by the outpouring of support from so many of my former colleagues, as well as local business, community and Republican party leaders," Handel said. "We have a lot of work to do, and I look forward to the campaign ahead." 

Karen Handel represented Georgia's Sixth District from 2017-2019, after winning the seat in a Special Election. She is a former Georgia Secretary of State and Fulton County Commission Chairman. She and her husband Steve have lived in the district for 25 years, and reside in Roswell, Georgia. Georgia's Sixth District includes portions of Cobb, DeKalb, and Fulton counties.
###