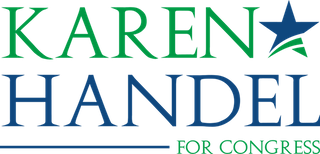 FOR IMMEDIATE RELEASE
March 28, 2019
Community Leaders Endorse Karen Handel
Following the endorsements from Georgia's Republican Congressmen and members of the GOP's Congressional Leadership, Karen Handel is announcing this initial list of community leaders in support of her campaign, with more to come in the coming weeks:
PSC Commissioner Chuck Eaton
Cobb County Commissioner Bob Ott
Cobb County Commissioner JoAnn Birrell
DeKalb County Commissioner Nancy Jester
Johns Creek Mayor Mike Bodker
Johns Creek City Councilman Steve Broadbent
Milton Mayor Joe Lockwood
Milton City Councilwoman Carol Cookerly
Roswell City Councilman Matt Judy
Roswell City Councilman Matt Tyser
Sandy Springs City Councilman John Paulson
Sandy Springs City Councilman Chris Burnett
Dunwoody City Councilwoman Pam Tallmadge
Tucker City Councilwoman Michelle Penkava
Former City Councilwoman Honey VanderCreek
Former GAGOP Chairman Sue Everhart
GOP Grassroots Leader Ginger Howard
GOP Grassroots Leader Jason Thompson
GOP Grassroots Leader Julianne Thompson
Karen will release a list of endorsement from state legislators at a later date.  She knows that their first priority is and should be representing those that have elected them to serve until the General Assembly adjourns Sine Die. 
Karen Handel represented Georgia's Sixth District from 2017-2019, after winning the seat in a Special Election. She is a former Georgia Secretary of State and Fulton County Commission Chairman. She and her husband Steve have lived in the district for 25 years, and reside in Roswell Georgia. Georgia's Sixth District includes portions of Cobb, DeKalb, and Fulton counties.
###