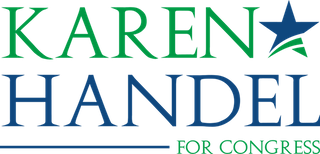 FOR IMMEDIATE RELEASE
March 27, 2019
Republican Congressional Leaders
Endorse Karen Handel
Following the endorsements yesterday from most of Georgia's Republican Congressional Delegation, the leaders of the U.S. House Republican Caucus are making their choice clear.  They want to work with Karen Handel again in Congress. 
Former Speaker of the House of Representatives, and Former Georgia Congressman (GA-6), Newt Gingrich. "Again and again, Karen Handel has shown that she has the knowledge, experience, and will to do what is necessary to help Georgia's 6th District. She also has the toughness necessary to help us fight and stop Congressional Democrats and their radical agenda. Electing Karen is critical for retaking the House and restoring common sense in Washington."
House Minority Leader Kevin McCarthy.  "Karen Handel quickly distinguished herself in the House as an engaged, effective member on behalf of GA6.  She's a tested leader with the strength and experience to win this seat, help us regain the majority, and stand up against the radical agenda of the left."
House Minority Whip Steve Scalise.  "Karen Handel is a proven leader and tireless worker, and now more than ever, we need a fighter like Karen in Congress to push back against the Democrats' radical agenda that would hurt families in Georgia's 6th congressional district. She is the right person for the critical battle we face ahead."
House Republican Conference Chair Liz Cheney.  "Karen Handel is strong, tough, and absolutely the right person to fight for Georgia's 6th District in Congress.  She is a respected leader and a relentless advocate for her constituents and is not afraid to stand up to business as usual in Washington in order to help the individuals that she serves. I'm thrilled that she is running for Congress and offer her my unwavering support so she can rejoin our Conference in opposing the Democrats' radical socialist vision, which will empower DC bureaucrats, while robbing the American people of their fundamental freedoms and trampling on our country's most cherished principles."
Karen Handel represented Georgia's Sixth District from 2017-2019, after winning the seat in a Special Election. She is a former Georgia Secretary of State and Fulton County Commission Chairman. She and her husband Steve have lived in the district for 25 years, and reside in Roswell, Georgia. Georgia's Sixth District includes portions of Cobb, DeKalb, and Fulton counties.
###